Boy, 10, becomes youngest to climb Old Man of Hoy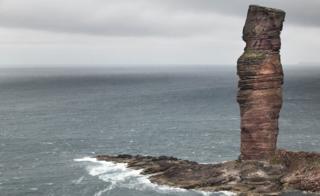 A 10-year-old boy has become the youngest person to climb a world famous sea stack off Scotland's north coast.
Ollie Buckle, from Flax Bourton near Bristol, made the 450ft (140m) ascent of The Old Man of Hoy with his father, Ben Buckle, and a professional guide.
Sir Chris Bonington, who first scaled the rocky crag in 1966, and adventurer Bear Grylls both recorded good luck messages for Ollie before he set off.
Ollie said he was "amazed" and "felt like he could do anything".
The previous record for the youngest person to climb the Orkney Islands landmark was held by renowned British climber Leo Houlding, who scaled it when he was 11.
Ollie, who will not celebrate his eleventh birthday until next Monday, began climbing seven years ago.
He raised more than £2,700 for charity by completing the climb.