Labour wins majority on Bristol City Council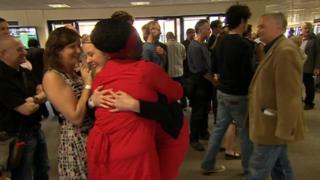 Labour has won a majority on Bristol City Council after gaining seven seats.
The party now has 37 seats out of 70, while the Conservatives have 14, the Greens 11 and the Lib Dems eight.
Bristol was the last authority in the country to announce its results. Turnout was 44.76%, with 141,790 people casting a vote.
All 70 city councillor positions from 34 wards were up for election. Previously no party had overall control.
Labour's Helen Holland, who retained her seat in Hartcliffe and Withywood, said it was a "great day for Labour".
The Conservatives' mayoral candidate Charles Lucas lost his seat, with Paula O'Rourke and Jerome Thomas from the Green party elected in Clifton.
UKIP lost its only seat in the city.
Other losses included Green Party group leader Ani Stafford-Townsend and the party's former leader Rob Telford.
Labour's Marvin Rees was announced as Bristol's elected mayor on Saturday.
He achieved almost 30,000 more votes than independent candidate George Ferguson, who held the leadership position since 2012.
Mr Rees has said he would select candidates from any party to form part of a rainbow cabinet. He is expected to give more details when he is sworn in on Monday.