Jailed Bristol rapist Adam Beeney a 'wolf in sheep's clothing'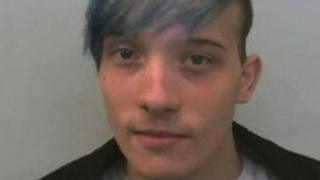 A 21-year-old Bristol man described by his victim as devious and a wolf in sheep's clothing, has been jailed for six years for rape.
Adam Beeney attacked the 63-year-old man after coercing him into his Bristol home last September.
He was sentenced at Bristol Crown Court after admitting two counts of rape.
In a statement Beeney's victim said the attack "will live with me for the rest of my life".
'Devious manipulating rapist'
"I didn't know what was going to happen to me after my nightmare of rape by a wolf in sheep's clothing," he added.
"I know from what happened to me that September at the hands of a devious manipulating rapist…it took me enormous courage [to speak out].
"I urge anyone who has been through the terrifying ordeal of rape, like me, to come forward and report it. I had a lot of support from the police and counselling."
Beeney, of Bristol South End, initially denied the offences but admitted the charges in court "because of the weight of evidence against him," according to Avon and Somerset Police.
A number of other charges will remain on file.