Becky Watts community garden work starts in Barton Hill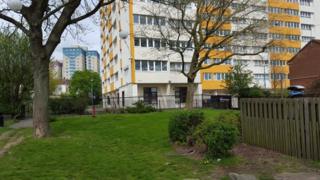 Work is getting under way later to create a community garden close to where the remains of murdered Bristol teenager Becky Watts were found.
The 16-year-old was killed by her step-brother Nathan Matthews and his partner in February 2015.
The community garden is being built in Cotton Mill Lane, in Barton Mill.
Artist Kerry Russell said: "It obviously affected everyone here very much and they felt this compelling need to do something positive."
Becky's aunt, Sarah Broom, said she and Becky's family thought the garden was "a brilliant idea".
"It's nice that people are starting to reflect on the nicer times, the years that she had as opposed to the time that she was taken from us," said Ms Boom.
"I'm sure she would have absolutely loved it."
The small patch of land is in Barton Hill, near two homes in Cotton Mill Lane involved in attempts to hide the 16-year-old's body.
The Mill Park project, which received government funding to help pay for the costs, hopes to complete the garden by September.
Ms Russell added: "Local landscape architect James Slay will be working with us to redesign the space and make it a lot more accessible for all the families that live here.
"We're going to be having a proper pathway that goes all the way through.
"We'll be having a beautiful gateway with a welcome archway and the residents have been instrumental in what's going to go in here and how we're going to use it."
In February, a carved wooden bench was unveiled by Becky's family at Goat's Field in Bristol.
"We regularly visit the bench in the field up in St George and we couldn't have got by without the public and the continuous support from them," added Ms Broom.
"If they feel this (community garden) is beneficial to them as well then we support that completely."