Minister backs free Parkrun after Stoke Gifford furore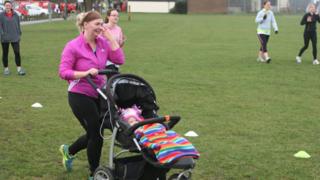 The government has called on a council which is to charge runners to use its grounds to "reconsider" the decision.
Stoke Gifford Parish Council caused a national outcry when it voted to charge parkrun a fee for using its land.
Acting Sports Minister David Evennett said the government wanted to remove barriers to sport.
The parish council said its decision was based on getting a large organisation "to pay a contribution" in a spirit of "give and take"
The issue was raised in the Commons earlier on Thursday by Eastleigh Conservative MP Mims Davies.
Parkrun talks
Mr Evennett said: "This is obviously a matter for the council and parkrun but the decision to charge for the event that is free in locations across the UK and around the world is one that we think as the government should be reconsidered.
"We want to remove barriers to participation and encourage more and people to get involved in sport. This is the key message that the government wants to get across."
But parish council chairman Ernie Brown said "politics should not come into it".
"No-one is stopping runners from using the park. This is about charging a large organisation and getting it to pay a contribution," he said.
"We are still in talks with Parkrun - as there has got to be a bit of give and take - but this should not be a political issue."
Some of the biggest names in sport have branded the decision a "disgrace", while devotees of the phenomenon, which claims to attract about two million participants worldwide, fear it could set a precedent.
A petition calling for the parish council to cancel its fees has attracted more than 50,000 signatures but the Stoke Gifford parkrun event has been cancelled.