Damaged postal vote forms sent to Bristol homes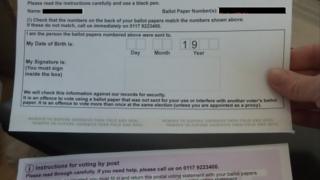 Some postal vote forms in Bristol have been sent out damaged while others arrived with incorrect return envelopes addressed to a council in Hampshire.
Voters in Bristol will head to the polls for the police commissioner, mayoral and council elections in May.
The errors were raised by Carla Denyer, who is standing as a Green Party city councillor.
Bristol City Council said anyone worried about their forms can contact the authority for advice.
The forms come with a detachable section that must be sealed and placed in an envelope. But many forms have been received with this section already torn off.
The fear is that people could misunderstand the instructions and leave out personal information needed to verify the postal vote.
Ms Denyer said: "You need to include the information that goes on that flap for them to verify you're the right person voting, and because it wasn't attached some people might accidentally leave it out of the envelope and it would presumably be invalid.
"And without that flap you can't seal the envelope properly, which means that its technically not anonymous when it's being counted."
Bristol City Council has also admitted about 25 forms included an incorrect return address for Gosport Borough Council, due to a printing problem.
They said any votes sent to South Hampshire would be returned, and anyone with an incorrect envelope should contact the council for advice.
The authority also advised that people with damaged forms can use tape to put them together and post them in the normal way.