Bristol St Michael's Hospital opens new morning sickness unit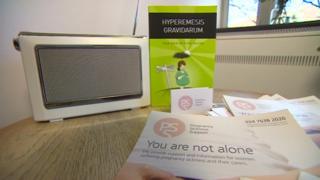 A new unit specially designed to treat pregnant women suffering from severe morning sickness has opened at a hospital in Bristol.
The condition, hyperemesis gravidarum, causes vomiting and persistent nausea.
The new gynaecology treatment lounge at St Michael's Hospital will treat patients who are between six and 20 weeks pregnant.
University Hospitals Bristol NHS Foundation Trust said it hopes the unit will help reduce hospital admissions.
Last year the hospital treated approximately 150 patients with the condition. It affects about 7,000 women a year in the UK.
The unit, which cost £5,000, will provide rapid rehydration, anti-emetic medication and advice.