Bristol's Stoke Lane one-way plan will go ahead for MetroBus project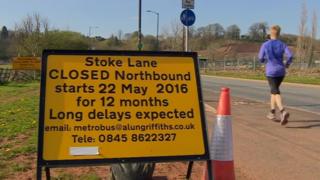 A commuter route in Bristol will be one-way only for more than a year to allow construction work to take place on the city's MetroBus project.
Drivers using Stoke Lane, Stapleton, northbound drivers will face a two-mile diversion via the busy A4174 ring road.
MetroBus said other options would increase disruption by nine months and increase costs "by at least £1m".
The road is one of the main routes into UWE's Frenchay campus - one of the city's biggest employers.
The diversion had been planned to take place this week but was delayed for a month after concerns it would disrupt some examinations at the University of the West of England (UWE).
But a MetroBus spokesman said it would be pressing ahead with the closure from 22 May and warned drivers to expect "long delays".
Duncan Cruickshank, who is head teacher at nearby Begbrooke Academy, said traffic in the area often gridlocks - even before the diversion takes place.
"The other day we had 115 parents arrive late which means not only is their education being disrupted - and so are all the other children in the school by them arriving late," he said.
"No information seems to be coming out about why they need one year to build a wall... it would be good if they shared their thinking."
Parent Amanda Vinall, who lives nearby, said if Stoke Lane goes one way then there will be a "massive impact" on the community which has been "completely under estimated".
She called on MetroBus to keep the road two-way with traffic lights and said locals would prefer the extra nine months of inconvenience to the lengthy diversion.