Bristol hay lorry blaze treated as suspicious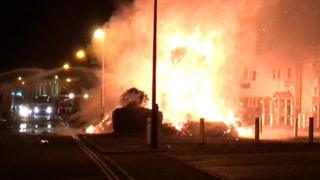 A blaze that caused extensive damage to a hay lorry near Bristol is being treated as suspicious by police.
Crews were called to Old Mill Road in Portishead at 00:20 BST to a fire on a lorry loaded with 40 tonnes of hay.
Avon and Somerset Police said along with smoke damage to a car transporter parked nearby, the fire had caused an estimated £140,000 worth of damage.
Det Sgt Andrew Pugh said it was "fortunate that no-one was in either vehicle" as it could have been fatal.
Police are appealing for information.