Plans to replace Roman clock soldiers on Bristol church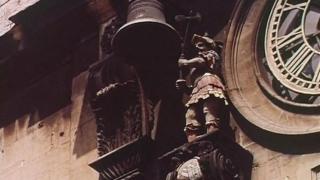 Plans are in place to restore two Roman soldiers which hammered the quarter-hour bells on a church in Bristol.
The two wooden quarterjacks - created in 1728 by James Paty - were installed on either side of the clock on Christ Church in Broad Street in 1912 to chime every 15 minutes.
But two years ago they were taken down for repainting and found to be so badly split they could not go back outside.
Now it is hoped around £60,000 can be raised to replace the figures.
The figures, carved out of English oak, were installed above the entrance of Christ Church more than a century ago but have not been heard since 2013.
Kay Clarke, who runs a dry cleaners next to the church, said people still come looking for the "men with the dingly bells".
"The problem is it's still a tourist attraction and people will come and stand opposite and they have this false illusion that these two little men are going to come out and ring the bells."
With the original Roman soldiers in storage and too weather damaged to be restored, church warden Roger Metcalfe said the figures will have to be replaced.
"We're hoping we can do it in laminated timber which is fairly stable but it's very costly," he said.
"I don't like the idea of plastic very much - it doesn't really suit an 18th century church - so that's the hope and I'm talking to two different people who say they can manufacture them.
"But I suspect the cost in all is going to be in the region of £60,000."