Becky Watts murder: Nathan Matthews appeal thrown out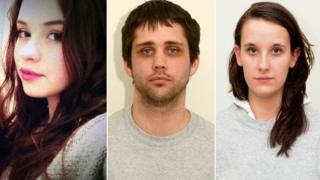 The stepbrother of murdered teenager Becky Watts has had the first stage of an appeal against his conviction and sentence thrown out.
Nathan Matthews, 29, was convicted in November of Becky's murder and given a minimum 33-year sentence.
It is understood the application was refused by a single judge who considered the case on the papers.
Matthews may make a renewed application for permission to appeal before a panel of three judges at the Court of Appeal.
Becky's father, Darren Galsworthy, said he was "very happy" about the decision.
"It's been hanging over us like a dark cloud and we've been through an awful lot and perhaps now we might start to be able to move on," he added.
Matthews' girlfriend, Shauna Hoare, who was jailed for 17 years for the manslaughter of 16-year-old Becky, has also appealed against her conviction and sentence.
Unconfirmed reports claim her bid has also failed.
During the trial last year, Bristol Crown Court heard the pair targeted Becky due to their shared dislike of her and sexual interest in petite teenage girls.
Matthews suffocated the teenager at her home in the St George area of Bristol on 19 February 2015 while trying to kidnap her. Hoare, 22, who was pregnant at the time, was at the address.
Becky's body was dismembered and hidden in a shed while police mounted a huge search across Bristol to find her.
A jury took less than four hours to convict the pair of her killing.
Hoare was convicted of manslaughter because she had participated in a kidnap where any "sober and reasonable person" would have known some harm would come to Becky, Judge Mr Justice Dingemans said.
Both were convicted of conspiracy to kidnap, perverting the course of justice, preventing Becky's lawful burial and possessing stun guns.