Gloucestershire Cricket Club defends 'giant spatula' lights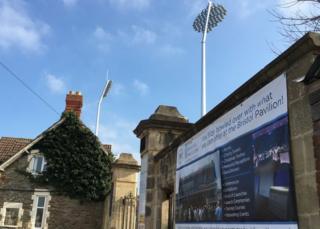 Gloucestershire Cricket Club has defended its new 147ft-high (45m) floodlights which have been described as "giant spatulas" by local residents.
Four of the six lights costing a total of £1.1m are now in place enabling the club to host Cricket World Cup matches.
Will Brown the club's Chief Executive said the lights will project a sharp image onto the ground minimising light pollution to the surrounding area.
The lights are due to be tested for the first time on 20 May.
The club has been given a £700,000 grant towards the cost of the lighting by the England and Wales Cricket Board.
Floodlit Test cricket has been approved by the International Cricket Council (ICC) in a bid to boost attendances.
Callers to BBC Radio Bristol have described the lights as "giant spatulas".
Richard Holder, local resident who campaigned against the lights said they are "an imposition on the area" and he was disappointed the club had not looked at ways of removing parts of the lamps or lowering the columns when they are not in use.