Bristol mum's campaign to bring autistic son home from Newcastle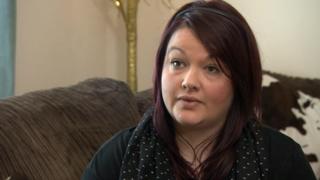 The mother of an autistic boy who is being treated 300 miles from their Bristol home has started a campaign to bring him home.
Adele Hanlon's son Eddie, 16, is being detained under the Mental Health Act.
Ms Hanlon said she struggles to make the 600-mile round trip to Newcastle and worries her visits can leave her son in a "distressed" state.
NHS England said it is an "absolute priority" to get children back in their homes with specialist support.
Joe McEvoy, NHS England South West Assistant Director of Specialised Commissioning, said families can be "desperately sad" when children with "very complex conditions have to be treated far away at highly specialist centres".
Mr McEvoy said this must always be "a last resort".
Eddie has been diagnosed as autistic, with ADHD and dyspraxia. In 2012 he was placed in a residential school near his home for a trial period with support for his challenging behaviour.
But he did not cope and harmed himself as well as causing damage to the school.
He was sectioned and moved to a hospital in Northampton - the closest facility capable of dealing with his complex needs.
"At this point being a mother as I knew it ended," said Ms Hanlon.
A year later he was moved to Newcastle after a CQC report in September 2013 raised concerns over use of seclusion, staffing and medication.
"I have missed my son growing up," said Ms Hanlon. "What we were assured would be nine months to a year of assessment and treatment is now three-and-a-half years down the line with no progression."
Ms Hanlon has started a petition on change.org in the hope of persuading medical authorities to move her son.
---
Matthew Hill, BBC Points West Health Correspondent
It's now two years since a report - following the scandal at Winterbourne View hospital - called for better support for adults and children with severe learning difficulties and mental health problems so they do not have to be admitted to hospitals.
It recognised families travelling long distances can be difficult, and that should be minimised through boosting community facilities closer to home.
But those who have signed Eddie's mother's petition believe more progress needs to be made.
---