'Real safety concerns' have delayed Bristol's Arena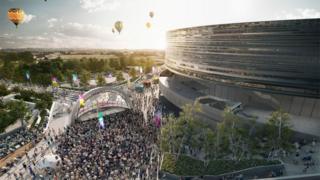 A decision on Bristol's £92.5m arena was delayed because of "real safety concerns", the authority's planning committee has said.
On Thursday, Mayor George Ferguson blasted city councillors for deferring a decision to approve the scheme.
He accused them of "playing politics" and claimed the delay was because the arena was "seen as" being his project.
But councillor Peter Abraham, said he was "shocked" the mayor had "resorted to impugning" their judgement.
The 12,000 capacity city centre venue had been due to open in 2018. But there have been concerns that without a car park, concert-goers would clog up nearby streets.
Mr Ferguson, who is standing for re-election as an independent in May, claimed any reservations could have been dealt with by conditions attached to the application.
But chairman of the committee Mr Abraham, said that was "simply inaccurate" and accused the mayor of "writing cheap headlines".
"There were real safety concerns in relation to those arriving and leaving the arena," he said.
"There is an obligation on us to try to ensure that we get every possible detail and foreseeable contingency right.
"The alternative strategy, seemingly being advocated by the mayor, is to nod everything through and worry about the consequences later.
"Well, such an approach is neither sensible nor advisable."