Mayor's anger over Bristol Arena delay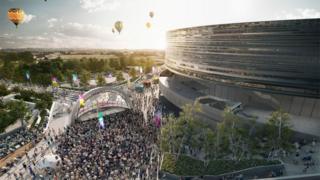 Bristol mayor George Ferguson has blasted city councillors for delaying a decision on the city's £92.5m arena.
Mr Ferguson, who made the arena central to his 2012 election campaign, accused Bristol City Council of "playing politics".
It comes after the authority's planning committee deferred a decision to approve the scheme on Wednesday.
Councillor Gary Hopkins accused Mr Ferguson of failing to address transport concerns.
The 12,000 capacity city centre venue had been due to open in 2018. But there have been concerns that without a car park, concert-goers would clog up nearby streets.
Mr Ferguson said the "damaging" delay would cost Bristol at least £80,000 a week or "at worst" tens of millions of pounds.
The mayor, who is standing for re-election as an independent in May, said: "This is an attempt to try and delay something that is seen as my project, by some of the people who were responsible for not delivering an arena for the last 20 years."
He claimed any reservations could have been dealt with by conditions attached to the application and said the deferral could "trip up" the arena project.
Gary Hopkins, leader of the council's Liberal Democrat group, stepped down from the committee having already voiced concerns about the plans.
He said some councillors were "outraged" by the "lack of consideration" for the parking situation and claimed Mr Ferguson would not work with the council to seek alternatives.
"We want the job done but we've got to do it properly," he added.
Mayoral rival, Labour's Marvin Rees - who came second in 2012's mayoral race - said on Twitter the arena should not be "rushed through as a vanity project."
Other candidates selected so far include Lib Dem Kay Barnard, Conservative Charles Lucas, Green candidate Tony Dyer and UKIP's Paul Turner.