Bristol Prison: 'Huge and disruptive' legal highs problem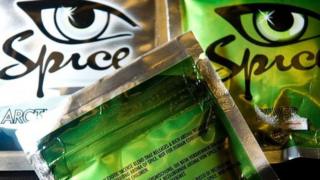 So-called legal highs are a "huge and disruptive" problem at Bristol Prison, a spokesman for the jail's Independent Monitoring Board (IMB) says.
More than 30 ambulances were called in one week to treat inmates who had taken psychoactive substances, the BBC has learnt.
The IMB's Graham Bingham said the drugs made prisoners act violently and staff have been attacked.
The Ministry of Justice said the prison is actively working on the problem.
Police patrols have also been increased outside in order to prevent drugs from getting in.
'Superhuman strength'
Mr Bingham said he had personally seen prisoners under the influence of the drugs acting "very violently" when officers attempted to restrain them.
"They seem to have superhuman strength," he said. "Three or four members of staff are needed to contain them."
Mr Bingham added that in a single day recently there were seven alerts for prisoners to be taken to hospital under escort for treatment after taking the drugs.
A Prison Service spokesperson said: "We have also passed laws so that people who smuggle packages over prison walls, including drugs, face up to two years in prison.
"However, it's clear we need to do more. The Justice Secretary has asked the Ministry of Justice to look at how we can ensure prisons have the right tools in place to tackle this problem."
New psychoactive substances (NPS) such as Spice have been seized in Bristol Prison.
They are chemically designed to mimic drugs that are already banned.
Spice is a synthetic cannabis substitute and is described by some experts as being up to 100 times more potent.
The government's Psychoactive Substances Act, which comes into force in April, will place a blanket ban on all legal highs.
However, Dr Tim Williams of Avon and Wiltshire Mental Health Partnership NHS Trust said he was concerned the ban could "drive the problem underground".
He said a similar bill in Ireland was "initially successful", but "there's actually been an increase in people using Spice-related compounds".
---
Have you been affected by any of the issues in this story? If you have any information to share with the BBC, you can email haveyoursay@bbc.co.uk.
Please include a contact number if you are willing to speak to a BBC journalist. You can also contact us in the following ways: