Petition against Bristol parking zones forces debate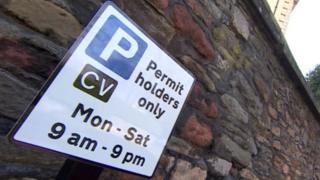 A petition calling for residents' parking zones (RPZ) in Bristol to be dropped has gathered more than 3,500 signatures forcing a council debate.
Introduced by mayor George Ferguson, the scheme aims to "give the streets back to residents and businesses".
The authority wants to reduce the problem of pollution and congestion related to commuter parking.
But the online petition describes the scheme as "disastrous" and has been signed by more than 3,800 people.
The policy has led to protests and vandalism of some parking machines.
'Proper consultation'
The petition, started in May 2015, calls for the scheme to be cancelled in Clifton, Clifton Downs, Cliftonwood and Hotwells, Cotham, Redland, Montpelier, St Pauls, Easton and St Philips, Redcliffe, Spike Island, Bedminster East and Southville.
It also want to see plans to extend the scheme to other areas - which are already on hold - dropped.
Edward Bowditch, who set up the petition, said RPZ has "been disastrous, with businesses closing and people forced to leave their jobs".
He called for the scheme to be "redesigned with proper consultation performed with residents, businesses, and the universities".