Ex-tea factory in Bristol given £500k for repairs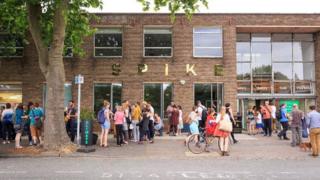 A former tea packing factory in Bristol which is now used for contemporary art has been given £500,000 for "essential" repairs and upgrades to the building.
Spike Island, on Bristol's Harbourside, wants to repair its roof and install new offices, a modern boiler and energy-efficient lighting.
The centre includes a gallery, cafe and creative working space for artists and designers.
The grant of £499,976 has been awarded by the Arts Council England.
Phil Gibby, of Arts Council England in the South West, said: "Spike Island does exceptional work developing new and emerging talent in the visual arts whilst also providing workspace and facilities for hundreds of artists, creative individuals, businesses and students.
"This award of almost half a million pounds will help Spike Island carry out the essential work needed to repair the fabric of the building and install much-needed new equipment and facilities so they can look to the future with confidence."