Becky Watts bench unveiled at Bristol park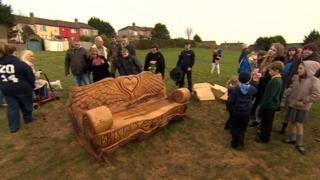 A wooden bench has been unveiled in memory of the murdered Bristol teenager Becky Watts.
The 16-year-old was killed in February 2015 by her stepbrother Nathan Matthews and his girlfriend Shauna Hoare.
The bench was offered by Bristol City Council and funded by the Neighbourhood Watch Partnership.
Becky's father Darren Galsworthy and stepmother Angie Galsworthy attended the unveiling with friends and family on Tuesday afternoon.
The bench, made by Andy O'Neill, has been placed at Goat's Field, an open space in Bristol.
'Amazing support'
Family friend Lorraine Atterton said: "They love the fact that it's in such a public place so that other people can come and enjoy it."
She added: "They're forever saying now, even a year on, how amazing the support they've had from the public and how it's got them through the darkest of times."
On Friday, a specimen tree was planted nearby also in memory of the 16-year-old.
Ahead of the unveiling, Becky's family also confirmed they were abandoning plans to set up the Becky Watts Foundation.
Instead, a charity gala event is being planned in June where the proceeds will go to charity.