Southmead Hospital fined for missed spinal surgery targets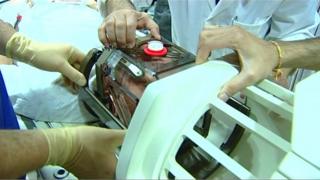 A hospital that left patients waiting more than a year for specialist spinal surgery has been fined £1.2m.
The NHS trust that runs Bristol's Southmead Hospital said an increase in referrals and a lack of specialist staff were behind the rise.
The NHS has a target to treat the majority of people within 18 weeks.
North Bristol NHS Trust (NBT) said it had employed a sixth specialist spinal surgeon, and has set a target to clear the backlog of patients by March 2017.
A trust spokesman said it had seen "a significant increase in referrals from other hospitals" and "an increase in the complexity" of conditions among patients.
"This has impacted on our ability to treat as many of the patients on the waiting list as originally planned," he added.
The fine relates to a period in 2014 when there were 111 spinal patients waiting more than 52 weeks for surgery.
Currently 81 patients are waiting for non-urgent orthopaedic spinal surgery, with neurosurgery and epilepsy treatment waiting times also affected.
A spokesperson for NHS England said it issued fines to trusts with patients waiting more than 52 weeks.
He said: "We have issued fines to NBT for these breaches and we know the trust is implementing a recovery plan to reduce the numbers.
"However, NBT does provide services to patients with specialist medical needs that are not easily available elsewhere and this will impact on the number of patients on waiting lists."
The hospital opened in May 2014 at a cost of £430m, bringing together services from Southmead and Frenchay hospitals.