Cigarette packaging from 1940s found under carpet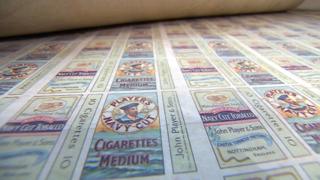 Sheets of cigarette packaging dating back to the 1940s have been discovered under the carpet of a house in Bristol.
Jo Vallom and Duncan Smith found six sheets of uncut packaging beneath 1949 newspapers while renovating their house - and have donated some to a museum.
The thick paper was designed for boxes of Players Navy Cut, Rough Rider and Double Ace - all linked to Imperial Tobacco, headquartered in Bristol.
Cigarettes were produced in Bedminster factories between 1886 until 1974.
It is thought the papers, found in the couple's terraced house in Bedminster, would have been among those with slight imperfections left piled up in the Mardons printing factory near Temple Meads for workers to take home.
The previous owner is believed to have lived in the house, built in 1929, for at least the past 50 years.
Ms Vallom thinks the thick paper, laid directly over the floorboards in a bedroom, was probably there as a draught excluder.
She has donated one of the sheets to the M-Shed museum to go into storage. Andy King, senior curator of industrial and maritime history, believes the paper dates from the 1930s or 40s.
He said the packaging was a relic of Bristol's history as the UK's biggest tobacco production centre until the 1980s. Tobacco firm WD and HO Wills had huge factories in Bedminster.
"The [Wills] family left its remains all over the place and a lot of Bristol's public buildings are a result of the profits made from tobacco," Mr King said.
"My guess is that the person who lived in the house would have perhaps worked for Mardons or was able to pick them up out of the rubbish bin and used them for underlay."
He said as they were uncut, they were likely to be of little interest to collectors. Ms Vallom said she was relieved: "We just think they are so gorgeous. The idea was to cut them up and make a nice little collage of them."