Trees in Bristol woodland pruned for the first time in 150 years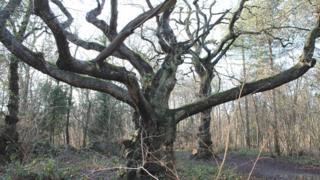 Trees in woodland above the Avon Gorge in Bristol are to be pruned for the first time in 150 years.
The National Trust is reviving the ancient practice of "pollarding" in Leigh Woods this winter in a bid to conserve the woods for years to come.
Trees will be cut around 3m (10ft) above the ground, out of the reach of livestock, to encourage new growth.
It is hoped regular pollarding will extend tree life, allowing older trees to become larger and more impressive.
'Old pollards'
National Trust ranger Tor Stanfield said: "Leigh Woods is ancient woodland and wood pasture, and the management over many past generations has meant that we have over 300 old pollarded trees.
"Pollarding stopped here around 150 years ago, meaning we have old pollards but no young ones to take their place."
To conserve the woodland ecosystem, trees will be treated by the trust this winter before being "put back into a regular pollarding cycle".
The 500 acres of woodland was donated to the people of Bristol by local tobacco magnate Sir George Wills.
A national nature reserve, it also forms part of the larger Avon Gorge Site of Scientific Interest.