Bristol's Airbus site gets £37m funding for test centre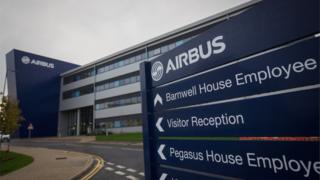 Funding for a new £37m testing facility at Bristol's Airbus site has been announced by Chancellor George Osborne.
The new aircraft wing development and test centre at Filton will be half funded by the government and half by the company.
The announcement came as the chancellor toured Airbus's Filton HQ, which employs 4,000 people, on Thursday.
Chief operating officer, Tom Williams said: "It is crucial we take the lead in developing new technology."
The investment for the new Wing Integration Centre comes though the Aerospace Technology Institute (ATI), a joint investment between industry and government aimed at securing the long-term future of the sector.
When it opens in 2017, it will house about 300 highly-skilled engineers developing and testing "new and cutting edge ideas".
In December, £14m of ATI-funded research into wing manufacturing technology and fuel system projects at the Bristol site was announced by Business Secretary Sajid Javid.
Mr Williams said the £37m joint investment was a "further boost to the Airbus site at Filton".
"This facility will help to shape the future of air travel for decades to come," he said.
Mr Osborne described Britain as the "innovator of Europe" when it came to aerospace design, but he wants the country to become "the global leader".