Bristol hostel killer's past behaviour 'missed by agencies'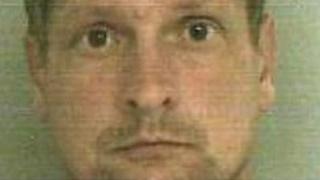 A man who falsely accused a fellow hostel resident of sexual abuse before killing him had made similar unfounded allegations before, a report has found.
Derek Hancock, 42, stabbed Robert Cox, 24, at a hostel in Egerton Road, Bishopston, Bristol, in August 2013.
He later admitted manslaughter on the grounds of diminished responsibility.
A review found he had made repeated "unfounded and untrue" sex assault claims, but the pattern of his behaviour was not identified by police.
The serious case review also found both men needed 24-hour supported housing and the bar was set too high to access local statutory mental health services.
It was commissioned by the Bristol Safeguarding Adults Board as the victim was a vulnerable adult with mental health issues.
'Deluded and psychotic'
Described as "deluded and psychotic" in court, Hancock had made repeated allegations, calling police to claim Mr Cox and other residents had been making sexual actions towards him.
Although a previous hostel was aware of this, his allegations had not been recorded and passed on to the Egerton Road hostel.
On the night of Mr Cox's death, Hancock phoned police and told them he "would take the law into his own hands".
Minutes later, he fatally stabbed Mr Cox.
In December 2014, Hancock was sentenced to life imprisonment and was ordered to serve a minimum tariff of four years and nine months in accordance with the Mental Health Act.
The review, which spoke to a number of public bodies such as the police and NHS England, said 24-hour staffed accommodation "may have reduced the likelihood of the extreme escalation in B's (Hancock's) behaviour".
"However no agency involved was able to predict that B would kill Robert or that he was capable of such an act," it added.
The review called for a clear route for providers to escalate concerns and better sharing of information between agencies so risk assessments of hostel residents were more accurate.
'Senseless' death
Mr Cox's family said his death was "senseless".
"We read this report and see that Robert had been singled out by another resident. A resident who has shown similar behaviours at previous residentials yet this was not recognised," they said.
"We also fail to see how Robert was properly safeguarded from a threat other than to tell B his continuous claims of sexual harassment were unsubstantiated."
A spokesman for Avon and Somerset Police said: "Our sympathies remain with Mr Cox's family."
The force had been working with the Safeguarding Adults Board before the review was published "to implement the improvements suggested", he said,
"We will take the learning from this report and disseminate it to the appropriate areas of our organisation."