Pair praised for Bristol canal crash rescue attempt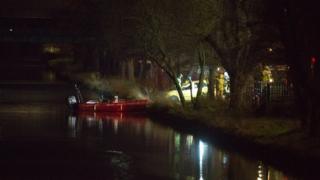 A man and a woman who tried in vain to rescue two men when their car crashed into a Bristol canal have been praised for their bravery.
Emergency services were called to Feeder Road at around 18:00 GMT on Sunday after the car careered through a barrier and plunged into the water.
Police described the efforts of the pair who jumped into the canal as "gallant".
Formal identification of the men who died is expected to take place later.
One was believed to be in his thirties and the other in his forties.
Several roads in the area were closed while police divers and fire crews carried out investigations at the scene.
Recording and rehearsal studio boss Steve Mallison, 44, was helping bands unload equipment into the nearby RS Studios when the incident happened.
"The car came down the road near Short Street and failed to stop when it got to the turning by Feeder Road," he said.
"Loads of emergency services then raced down to the scene. I've never seen so many police cars and ambulances in quick succession. I knew straight away that it was very serious."
Avon and Somerset Police are appealing for anyone who witnessed the incident to come forward.