Bristol tent-dwellers warned they could face legal action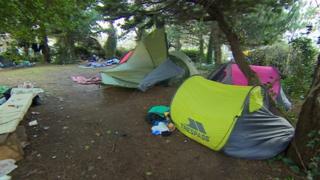 Rough sleepers using tents in Bristol's public parks have been warned they face court action if they do not move on.
About 15 people are living under canvas according to the city council, which described it as a rising problem.
Legal action has already been used to move tent-dwellers on from St James' Park next to the bus station.
Nick Hooper, from the council, said they were making more beds available as they recognised people were seeking warmth and shelter.
"Generally living in tents is a bad idea. Sometimes tent-dwellers start causing nuisance, anti-social behaviour, littering, and obviously there aren't necessarily toilets available for people were they're camping," he said.
"So where that happens we will move them on, and there are some places where that has happened and there are no more tents."
He added court action was only necessary where rough sleepers became aggressive in their response to requests to move on.
Additional beds
Steve Hill, who has been living in a tent in Bristol, said: "It's cold and I just want somewhere to sleep. I'm not bothering no-one. I just want somewhere warm to sleep."
Bristol City Council estimated there were 97 rough sleepers on a given night last autumn, up from an estimated 41 in the previous year.
An extra 15 beds are being made available by a Christian church group, and since Christmas an additional 20 beds had been made available by homeless charity St Mungo's.