Bristol's lack of affordable homes "embarrassing" says campaign group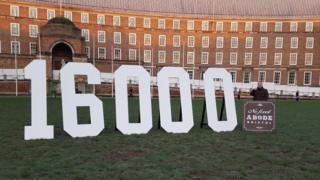 A campaign group set up to make housing a key topic ahead of the May elections has said the lack of affordable housing in Bristol is "embarrassing".
No Fixed Abode claims the city council has "failed to fix" the problem and has asked why, despite "a lot of talk", no solutions have been found.
Council figures list 9,400 households on the housing register with 466 in the highest priority of need.
The council has agreed to build 1,000 social houses over the next 15 years.
'Unsuitable conditions'
In December the council endorsed a new strategy to address housing issues - focusing on "a serious shortage of housing, particularly of affordable housing" - over the next five years.
The full council is due to meet later with social and affordable housing on the agenda again.
Dom Lane from the campaign group said: "All of the city's elected representatives continue to talk with no solutions being found - are they really looking for answers?"
Oona Goldsworthy the chief executive of community housing association United Communities said the current housing problem in Bristol is the worst she has ever seen.
"The numbers sleeping rough are the tip of iceberg and there are many more living in unsuitable conditions," said Ms Goldsworthy.
She put the situation down in part to the city's success and said "more people are moving here and we're not keeping up with that" either in the number of properties to rent or those available to buy.
Ms Goldsworthy said the problem goes across political boundaries and needs a solution for the whole West of England.