Bristol campaigners continue efforts to save Faithspace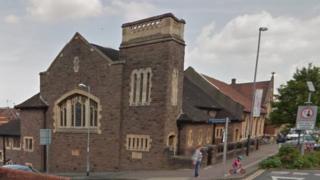 Campaigners are fighting to prevent the sale of a Methodist church in Bristol that has been used as community space.
Southville Methodist Church or Faithspace was a place of worship for more than 80 years before closing in 2014 due to a dwindling congregation.
Campaigner Lynda Keeys said: "Since it's been boarded up, organisations and groups have had to move and find elsewhere. Some have shut completely."
The church plans to sell the venue and invest proceeds in its work in Bristol.
Reverend David Alderman said the sale would be achieved via an "informal sealed bid process", making "a level playing field" for buyers.
The church said there had been no formal expressions of interest from the community to buy the building. It goes on the market at the end of the month.
Community space
The building was designated as a community asset to give community groups a six-month window in which to buy the building, but this period has now expired.
Although the area has the Southville Centre, campaigners believe more community space is needed, with Faithspace presenting a prime opportunity.
Campaigner Alastair Carswell said: "There is a potential for it to be used as a nursery space, there's a massive waiting list for nursery spaces around here.
"But most of all it could be used as an asset for lots of local groups."
Campaigners hope that a last-minute solution is found before the building is put on the open market.
Green Party city councillor Charlie Bolton said: "There are moves afoot locally - the Southville Centre is actually involved in the campaign and they've been very supportive to reserve the building for future community use."