Unauthorised Bristol Airport car park appeal dismissed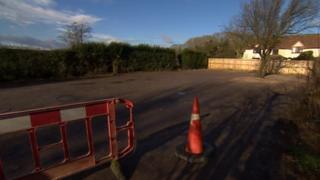 A car park operator has been ordered to stop using a site as a car park for passengers using Bristol airport.
The Planning Inspectorate has dismissed two appeals against enforcement notices issued by North Somerset Council on Gregory Wedlake.
Greenbelt land near the airport was used for the parking of vehicles, and he did not have planning permission.
Mr Wedlake told the BBC he had complied with the order and the land was no longer being used for parking.
He has also been given four months to remove a portable building which was used as a vehicle parking reception.
Elfan Ap Rees, deputy leader of the council, said: "The council is committed to protecting the green belt from damage caused by unauthorised car parking.
"We will continue to investigate and take the appropriate action against those who flout planning regulations."
The council has also stopped land to the south of St Andrew's Church, Congresbury, from being used for airport parking after it "caused noise and disturbance" to local residents.
A community protection warning was issued against Bristol Valet Parking Ltd, which told the BBC the firm was no longer operating for financial reasons.