No graffiti plea in Banksy's Stokes Croft 'home'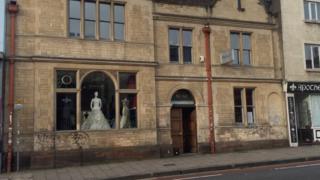 A dressmaker whose shop sits on a street famous for Banksy artwork has pleaded for people to stop covering the building with graffiti.
Gill Cockwell, owner of Gilly Woo in Stokes Croft, Bristol, said jet washing was destroying the 100-year-old building's "beautiful Bath stone".
She has put up a sign asking graffiti artists to "think before you tag".
Banksy's Mild Mild West mural, opposite the shop, is among numerous pieces of street art in the area.
'Continuous jet blasting'
The notice explains permanent damage has been done to the building and business owners have spent time cleaning the walls.
"It is heartbreaking to see this beautiful place being vandalised," it reads.
Ms Cockwell said: "It's beautiful Bath stone, but unfortunately the stone is really soft and it doesn't withstand continuous jet blasting.
"In places they've made a big effort to get the graffiti off, but have then left it, saying it's better to have faded graffiti than massive holes in the wall.
"It seems to be impossible to get it off without ruining the building."
Assistant Mayor Daniella Radice said Bristol City Council had a zero tolerance attitude to illegal graffiti, and the council was currently drawing up a plan on how best to tackle the issue.
Banksy's Mild Mild West mural is one of his most loved and well known early artworks in Bristol.