Rare stick insects hatch at Bristol Zoo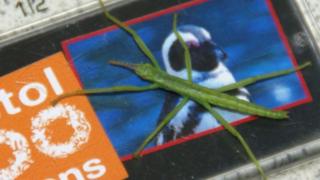 Eggs from a rare species of stick insect have hatched at Bristol Zoo.
Staff said 38 Lord Howe Island stick insect hatchlings had emerged during the past fortnight and more were due to hatch soon.
The critically endangered creature was thought to be extinct for almost 80 years until its rediscovery in 2001.
A batch of 300 eggs was sent from Melbourne Zoo in Australia in November as part of an international effort to save the species.
Mark Bushell, curator of invertebrates at the zoo, said: "To see these precious stick insect nymphs finally emerging from their tiny eggs is absolutely incredible, a real career highlight.
"Bristol Zoo is the only place in the whole of Europe where the species now exists.
"I have been studying phasmids for 20 years and have always wanted to see a live Lord Howe Island stick insect, so it is a dream come true to be part of the team responsible for raising and breeding them."
The species was wiped out on its native Lord Howe Island off the east coast of Australia after European rats ran aground from a stranded ship in 1918.
The eggs are all descended from a breeding pair known as Adam and Eve, which were rescued from Ball's Pyramid - a volcanic outcrop off Lord Howe Island - in 2003.
There are thought to be only about 40 individuals left there, in one small area.
Other eggs were sent to zoos in Toronto and San Diego. The aim is to eventually return the species to Lord Howe island.