Bristol mayor George Ferguson denies 'dictatorial' slur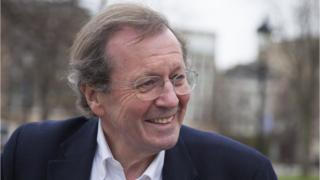 Bristol's mayor George Ferguson says he will be "more consensual" should he win a second term in May's election and has denied being "dictatorial".
He told the BBC he had "taken flak" for his residents' parking zones (RPZ) but successful cities had to be prepared to make "brave decisions".
RPZ opponents drove a tank through Clifton while his city-wide 20mph limit roll-out has also been criticised.
Mr Ferguson was elected as an independent in 2012.
Other candidates selected so far include Labour's Marvin Rees - who came second in 2012 - Lib Dem Kay Barnard, Conservative Charles Lucas and Green candidate Tony Dyer.
Mr Ferguson has been accused of being "anti-car" through his efforts to reduce commuters driving into Bristol - one of England's most congested cities.
He said Bristol had been "dragging its feet" for years and said he wanted to "make things happen".
"I've had that big battle and for instance now, if one was going to extend RPZs, I would want to do it in a much more consensual way," he told BBC Radio Bristol.
He said he would introduce more zones in those areas "if they want them".
"I'm not that dictatorial person that people try to paint me as," he said.
"Occasionally I may have lost my rag with people....it may have been once a year....but it gets repeated and repeated and that becomes my image.
"Actually those that know me know that I like to work with people rather than against them."
He said would like to make the "old city" car-free, should he win a second term in May's elections and would like to halve the 55,000 cars driving into the city but had no plans for a congestion charge.
"I never like to say never, but it's not on the cards," he said.
Labour's Mr Rees said there was widespread dissatisfaction "felt by Bristolians with the way their city is run and the feeling among many that the mayor has not been listening".
He added: "It's time for that to change."