Post Office raid explosion was a 'hideous act'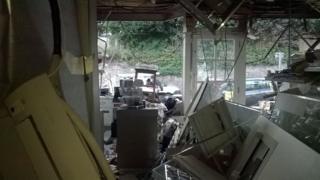 Pictures of the damage to a Post Office blown up by thieves trying to steal a cash machine have been released.
The blast happened in the early hours of Monday at the Weston Road branch in Long Ashton, near Bristol.
A quantity of cash was stolen and three men were later arrested on suspicion of causing an explosion with intent to endanger life.
Villagers described the attack on the building as "shocking", "insane" and "a hideous act".
Owners David Andrews and Andrew Crabb said they hope to reopen "as soon as possible" after assessing the damage.
Avon and Somerset Police said the three men arrested have since been released on bail pending further inquiries.
Trina Taylor, who lives in a flat above the store with her children, said she heard a "bang" at about 03:30 GMT.
"I thought the post office was being broken into or perhaps a car had crashed into it," she said.
"But I realised it was more serious when everything on the bedside cabinet had moved... and everything was on the floor.
"I called 999 and got the children and the cat out the house.
"I was cross and angry that some idiot would endanger my children... you can see that there are flats above... it's just insane."
Many villagers posted their support on the store's Facebook page.
Elizabeth Worthington wrote: "This is such a hideous act against your lovely shop... Two lovely kind people who really don't deserve this."
Bex Davey said. "It was truly shocking what devastation unfolded before our eyes".