Thangam Debbonaire MP poised for return after cancer treatment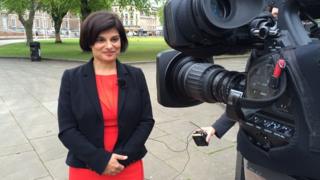 An MP who was diagnosed with breast cancer less than two months after the election has told the BBC she hopes to return to Westminster next month.
Labour's Thangam Debbonaire overturned a solid Lib Dem majority in the Bristol West seat last May but within weeks had noticed a lump on her breast.
She has been working when she can from Bristol while having chemotherapy.
She hopes to return to Westminster within two months and said she expects to feel like "the new girl".
'Very lucky'
But Ms Debbonaire, 49, told BBC Radio Bristol she was already "easing back into work" in the constituency: "It's quite hard to cut off completely, most of the time I have stayed in touch.
"I'm really looking forward to getting back, stuck in properly."
In May she overturned a Lib Dem majority of more than 11,000 to take the marginal seat by 5,673 votes.
But by July she had started cancer treatment, having spotted the signs of breast cancer following the campaign.
She said she had not felt ill and it had been a "shock" to discover a lump just weeks after the excitement of her victory.
Now she has completed chemotherapy and had an operation to remove the tumour.
"I'm recovering now, I'm going to start radiotherapy for four weeks, in a couple of weeks' time and I'm already easing back into work," she said.
"I'm very lucky that my staff have worked extra and really helped cover me when I needed to take some proper time off."
She added: "I'm hoping that by the end of February I will have made the journey back up to Westminster and started getting back into a regular rhythm."