Clifton Village residents' parking scheme raises £517,265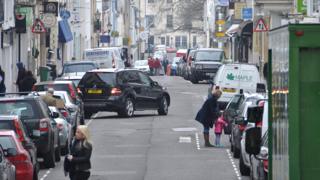 Motorists parking in one part of Bristol have paid out £517,265 since restrictions came into force in March.
The pay-and-display machines were installed around Clifton Village as part of the city-wide roll out of a residents' parking scheme.
Bristol City Council said any profits were spent on the scheme and reviews.
But those opposed to the parking zones said it was a "cash cow" for the council. Those in favour said it made daytime parking easier.
The measure was part of a a staged rollout of parking zones, to stop commuter parking, introduced by Mayor George Ferguson.
But it has divided opinion and in April 2014 Clifton traders drove a tank through the area protesting at the "lack of consultation" and handed in a 5,000-name petition.
Businessman Mark Moran, who has campaigned against residents' parking zones in Clifton said the figures "didn't come as a surprise" and believed it was a "cash cow for the council".
"To pretend the whole scheme ultimately wasn't about making a lot of money wouldn't be exactly truthful," he said.
"It's certainly not about making life easier for residents or people moving around Bristol."
A city council spokesman said the scheme had been introduced "to give residential streets back to the people who live there, and to reduce congestion".
"Feedback we have had from all areas, including Clifton Village, has been largely positive," he said.
---
Pay-and-display income
Clifton Village £517,265
Clifton East £173,819
Kingsdown £174,915
Cotham £87,538
Cotham North £70,628
Easton St Phillips £60,707
Cliftonwood £51,910
St Pauls £42,530
Redland £19,564
Montpelier £18,743
Bower Ashton £4,239
Bedminister East £5,228
Source Bristol City Council, figures for 2015/6 financial year up to Nov '15
---