'Noisy' Christmas day Metrobus work in Bristol delayed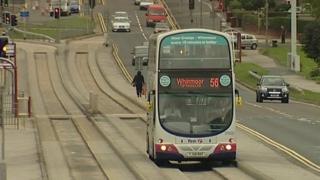 A rail firm which had warned Bristol residents about noisy building work being carried out in the early hours of Christmas Day has changed its plan.
Network Rail had previously said 12 hours of piling work would begin at 03:00 GMT on Friday.
But "the noisiest aspects of the work" have now been pushed back to 08:00 GMT, the firm said, "during daylight hours".
Some residents of Bedminster and Ashton Vale have been kept awake by work on the new Bristol Metrobus route.
'Sorry'
As part of the £200m "rapid transit" bus route through the city, Network Rail is carrying out "vibration piling" for its construction of Parson Street bridge.
Residents described the noise as being "like an industrial angle grinder" and like it was "happening right outside our door".
Network Rail's managing director for the Western route, Mark Langman, said: "I would like to apologise to everyone in the area for the disruption this work has caused and the worry it has generated, particularly about Christmas Day.
"This work is important and Christmas is the one time of the year when we have a railway without anything running on it.
"This means it is safe for us to complete some of the more complicated aspects of the work.
"That said, I fully understand the concerns expressed by residents."