Bristol M32 sound barrier plans revealed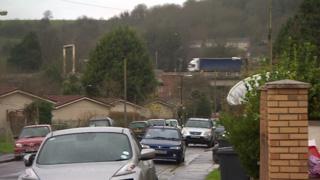 Plans are in place for a sound barrier to be put up along a "noisy" section of the M32, the BBC understands.
People living near the road in Bristol have complained for years about loud traffic noise. A petition was signed by 1,200 people earlier this year.
Highways England said the stretch of road between the M4 and Junction 2 was a priority area for noise reduction.
A spokesperson said a feasibility study had been commissioned and work would continue "well into the new year".
They added the number of vehicles using the motorway had increased by up to 3,500 vehicles per day since 2004.
Some residents said they can no longer go into their gardens because of the noise.
'Lots more traffic'
Resident Mike Bond said the noise was "intolerable" and had got "much worse" over the past few years.
"There's lots and lots more traffic and it's continual and throughout the night. I think that as the tarmac has got older it has got much louder.
"[Sound barriers] are a wonderful idea. The quicker they do it, the better."
Another resident, Wendy Harris, said she was "overjoyed" that barriers would be erected.
"The noise is really intrusive at times," she said.
Highways England said barriers would be installed at locations where they can provide "a good level of noise reduction for the adjacent community".