Frenchay's life-saving defibrillator stolen again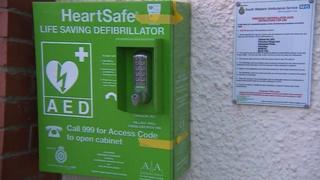 A community defibrillator which was stolen last December has gone missing again.
The lifesaving equipment is believed to have been taken from outside of Frenchay Village Hall, near Bristol, in the early hours of Friday.
Last December it was one of eight taken from sites including Pucklechurch, Frenchay, Fishponds and Easton.
Defibrillators are used to deliver a shock to restart a patient's heart when they are in cardiac arrest.
Callers to the ambulance service are given the code to unlock the cabinet and users are given automatic spoken instructions on how to use the equipment.