Bristol Airport east terminal opened by Princess Royal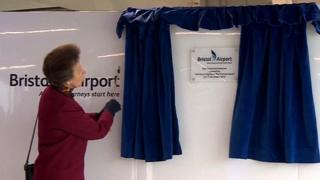 The Princess Royal has officially opened the new terminal extension at Bristol Airport.
The redeveloped east terminal building features a larger departure lounge, more shops and restaurants and a second executive lounge.
Her Royal Highness was greeted by school children who sang Christmas carols in the check-in area.
Princess Anne's last official to the airport was in March 2000 when she opened the current terminal building.
At the end of the visit Her Royal Highness was presented with handmade Bristol Blue Glass Christmas decoration.