Rage as traffic light glitch causes rush hour gridlock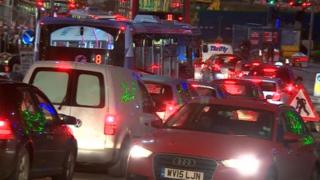 Bristol drivers stuck in traffic for hours during Tuesday's rush hour have vented their anger on Twitter.
"Horrendous" and "would be nice if I could be home for Christmas" were among messages under #bristoltraffic.
One likened it to The Italian Job film, when criminals hijack Turin's traffic control to help them steal gold bars.
Bristol City Council apologised and said engineers had resolved a technical problem with the system that links lights to improve traffic flow.
Some drivers took four hours to travel three miles during Tuesday's evening rush hour. Councillor Kevin Quartley, whose wife was stuck on a bus for two hours in Prince Street, said it was "disgusting": "Two hours, sat in one road. You could get between Bristol and Birmingham in that time".
Many took to Twitter to complain under the hashtag #bristoltraffic. One person who likened the gridlock to that in The Italian Job tweeted a picture of one of the stars, Benny Hill, and asked: "Has anyone checked the gold bullion?".
The council said the problem was fixed on Wednesday.
David Bunting, the city's traffic manager, told BBC Radio Bristol: "This is the first time I have known this happen in six years... but it happened on a very busy evening, so it's very unfortunate."
He apologised and said the council was reliant on technology to give them "extra capacity" on the roads: "We can't stop vehicles coming into Bristol and we can't create road space - we have to try and manage it as best we can."
Bristol roads are among the most congested in England. Department for Transport figures show that, outside London, Bristol had the second slowest journey times on its A roads in England. Only Reading was slower.