Gridlock is 'worst in memory' says Bristol bus boss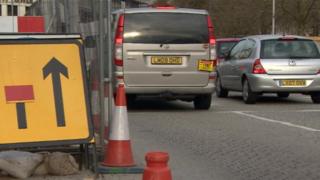 Delays on Bristol's roads have been "as bad as we can remember", the boss of the city's main bus operator has said.
James Freeman, head of First West of England, blamed Christmas congestion combined with major roadworks.
Construction work has begun in the city centre on the planned Metrobus rapid transit scheme while Prince Street bridge is shut to traffic for repairs.
Bristol City Council said "short-term disruption" would mean bring better public transport in the long run.
The latest Department for Transport figures show outside London, Bristol had the second slowest journey times on its A roads in England - at 4.25 minutes per mile. Only Reading was slower.
'Way behind'
Mr Freeman said: "In the past few weeks we have experienced more delays than normal. In fact it has been especially bad - as bad as we can remember - in the past couple of weeks, though obviously congestion tends to get worse at this time of year.
"This combines with ongoing major works for MetroBus in Bristol City Centre along with other issues such as the long-term closure of Prince Street Bridge are also causing delays to many of our services."
Assistant mayor Councillor Simon Cook said it was "unfortunate" the Metrobus works had coincided with the closure of Prince Street Bridge but asked people to "bear with us".
"I realise that people get frustrated and journey times through the city are a lot longer at the moment than they are normally. Bristol's public transport is way behind other cities, everybody knows that and the congestion in the city is not what it should be.
"But we are at last at the point where we have got three [Metrobus] schemes going in... so we are on the case, but the trouble with public transport systems is that they take forever to deliver."