Veterans' homes charity awarded £903k from Libor bank fines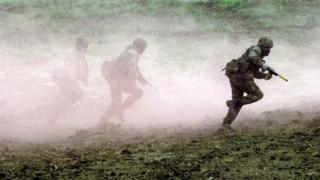 A charity which provides supported housing for armed forces veterans in Bristol is to get a £903,000 windfall from fines imposed on banks.
Alabaré, which runs the Bristol Homes for Veterans programme in Filton, said the cash will be a "fantastic boost" to expanding its support in the area.
It was confirmed as a beneficiary by Chancellor George Osborne last week.
The money will be spent on improving homes and buying new property.
It is one of many charities to receive a slice of cash from Libor fines imposed on banks that tried to manipulate the financial markets. Filton and Bradley Stoke MP Jack Lopresti lobbied the chancellor for funding.
Alabaré currently runs three homes in Filton and said it has supported 98 veterans since it started work in Bristol five years ago.
It offers short-term, supported accommodation for vulnerable veterans, some of whom will be homeless or have mental health issues or learning disabilities. It offers help with health, benefits, training and other support.
Chief executive Andrew Lord said: "We are thrilled with this award, which is a fantastic boost to our plans to increase our support for our Veterans in the Bristol area who are struggling in their lives outside the military.
"This award puts us well on our way to either improving existing homes or purchasing new ones."