Bristol's 'army of the night' celebrated in exhibition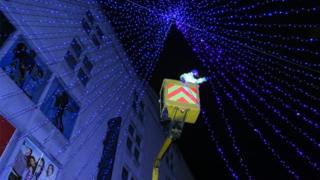 Photos celebrating a city's "unsung army" of nightshift workers have gone on display.
Thousands of images were taken on 24 and 25 October for the "24 Hours in Bristol" photographic competition.
Its "Magic Hour" theme was chosen because the dates coincided with the clocks going back - giving most people an extra hour in bed.
Helen Sheppard's image of a technician on a cherry picker installing Christmas lights won first prize.
HR manager Ms Sheppard, from Frenchay, said: "Walking around at night taking photographs I noticed just how many people are up working in the early hours of the morning."
The photos are on display at the Harbourside Arts Centre, off Millennium Square, from 2 - 11 December.