Head teacher banned for Sats 'tampering'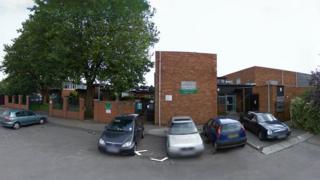 A "highly thought of" ex-head teacher who tampered with pupils' exam papers has been banned from teaching for life.
Rehana Siraj-Allan took Sats papers home before they were sealed and sent off for marking, amending some to get better results, a panel found.
At the time, May 2012, she was head of Easton Church of England Primary School in Bristol, which was under pressure to become an academy, which she opposed.
She denied tampering with papers, but admitted "unacceptable conduct".
Mrs Siraj-Allan, who had been head since 2003, did not attend the hearing of the National College for Teaching and Leadership (NCTL) hearing in November, but wrote saying: "I admit all the allegations except that I did not tamper with the papers in school or elsewhere."
'Unblemished history'
These included "reviewing" the Key Stage 2 Standard Assessment Tests and asking staff to do so, failing to secure them before sending them off for marking, drawing up a tally of results.
She added: "I accept that my behaviour constitutes unacceptable conduct."
But the panel found she had also amended year 6 pupils' reading tests and maths papers before they were sent to the Standards Testing Agency.
The report said Mrs Siraj-Allan was "under severe pressure". She had made a "huge difference to the school and its results when she first arrived" but by 2012 they were "perceived to have reached a plateau" and the school looked likely to be forced to become an academy.
That year, the school achieved a "satisfactory" Ofsted rating - in 2013, it was rated "inadequate".
A governor and a school adviser said she had been "highly thought of and had an unblemished history at a very tough school".
But the investigation found she "failed to act with honesty and integrity" and ruled that Mrs Siraj-Allan was "prohibited from teaching indefinitely".
The school, where the majority of pupils are Muslim - many of Somali origin - became an academy in September 2014 and has a new head teacher and governing body.
John Swainston, chief executive of Diocese of Bristol Academies Trust, said: "We have seen considerable improvement across the school, including a rise in the pupils' Sat results."