Plans go in for Bristol's £90m city centre arena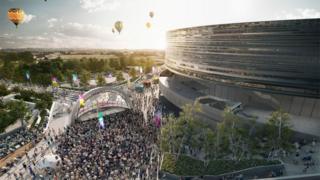 Plans for the £92.5m Bristol Arena have been submitted with mayor George Ferguson saying it will be "hugely popular" and a boost for the city.
If approved, the 12,000-capacity venue is due to open in 2018 bringing music, comedy and events to the city centre.
Mr Ferguson said Bristol was the "last city region" without such a facility that would be "great" for the economy.
But there have been concerns that without a dedicated car park, concert-goers will clog up nearby streets.
A planning application for the arena and an outline application for developing the surrounding Arena Island site over time, were submitted on Monday.
Changes made following consultation include "event spaces" outside the arena, to be used for outdoor cinema, markets and to stop it becoming a "dead site" when no events are on.
Solar panels have been added to the roof and the top part of the arena has been changed from glass to steel with the aim of creating "a more subtle lighting effect".
"This will be very much part of city centre activity," Mr Ferguson told the BBC.
"We are the last city region of this nature without a venue of this scale and it will be hugely popular."
Design team head Nicholas Reynolds believes the arena would become "a new landmark".
The council says its consultation suggested the majority of people backed the plans.
But Conservative group leader Mark Weston has said the mayor was being "naive" not to include more parking spaces and residents of Totterdown, one of the nearest areas with on-street parking, have concerns.
Only 200 parking spaces, reserved for disabled people and the arena's operators, will be available when it opens. The council says existing car parks have spare capacity and it plans to improve public transport provision with more park and ride services, "shuttle" trains between stations and the new "rapid transit" Metrobus service.