Bristol mayor George Ferguson shares home with refugee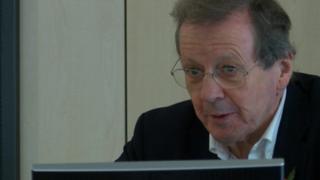 Bristol's elected mayor who encouraged people to find a spare room in their homes for refugees is sharing his home with a refugee, the BBC has learned.
George Ferguson promised to do so in September, when he was discussing the migrant crisis on BBC Points West and BBC Radio Bristol.
The UK is due to accept 20,000 refugees from Syria under the government's resettlement programme.
Mr Ferguson's ambition is for Bristol to take 550 over the next five years.
The mayor said he was in talks with about 12 landlords in the city, in an attempt to get them to house a number of refugees.
Kind offers
Mr Ferguson has not commented on his houseguest and requests from the BBC for information on whether the person is a man or woman and where they are from have not been responded to.
Bath and North East Somerset Council has said it will take in 50 refugees.
Council leader Tim Warren said two children have already been placed in the care system.
"They're unaccompanied minors. They've been though the kind of thing in Syria we can't imagine.
"We also have four families coming across. People have very kindly offered them homes, but they've come across in families so its not quite that easy," he said.