Nutmeg grater exhibition opens in Bristol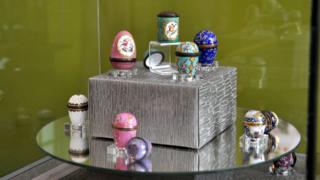 More than 200 nutmeg graters - billed as "the biggest ever collection" of the ornate implements gathered in a single place - have gone on display.
The unusual items, which have been loaned to a Bristol gallery by private collectors, date from the 1690s.
An urn-shaped grinder, a memorial grater adorned with a photo of a dead child, and one built into a walking stick are among the exhibits.
Curator Stephen Grey-Harris said the majority had never been seen in public.
What is nutmeg?
A spice from the nutmeg tree
Native to several Indonesian islands
Both nutmeg and mace come from the same plant
Nutmeg is the 'nut', while mace is the surrounding lacy 'aril'
Nutmeg has a warm, spicy aroma and flavour
Can be used in sweet and savoury cooking
Source: BBC Food