Bristol carer who stole from dementia couple sentenced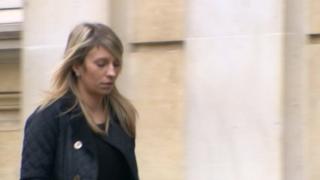 A carer with a baby has been given a suspended prison sentence with community service for stealing from a couple with dementia.
Frankie Yeoman, of Cobourgh Road, Bristol, was convicted on eight counts of fraud and one of theft at an earlier trial at Bristol Crown Court.
The thefts forced Beryl and Mervyn Bevan to go into separate emergency care after they married 63 years ago.
Their daughter Helen Bevan said the crime "tore their lives apart".
Case officer PC Tracy Champion said: "Yeoman was in a position of trust which she totally abused and was motivated by her own greed."
During the trial, the court heard the agency-supplied carer won the couple's trust by lavishing them with cakes to obtain the pin number of their bank card.
Suspicions were raised by Ms Bevan who said: "We took mum to the bank and got a mini statement.
"What we found was day after day cash withdrawals were being made from an ATM of hundreds of pounds."
During the trial in October, Mervyn Bevan died in a different home to his wife of 63 years.
"Nobody would want the ending that we had for our parents as a result of this," said Ms Bevan.
"As a result of this crime, their lives were torn apart," added Ms Bevan.
Yeoman was given a six-month sentence suspended for two years and 300 hours of community service.
The judge spared her jail as she has a baby.