Concorde museum at Filton in line for £500k of Bristol City Council money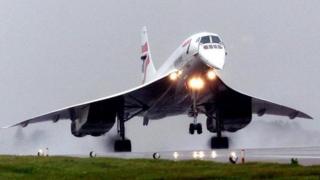 A new aerospace museum to house the last Concorde to fly could be given up to £500,000 by Bristol City Council.
A public consultation is being held to decide where an additional £1.1m of capital funding should be spent.
The £16m museum already has planning permission to be built on the former Filton Airfield in South Gloucestershire.
Bristol mayor George Ferguson said he hoped the "one-off" payment would help the project "get off the ground".
'Wealth of information'
Along with displaying the Bristol Aero Collection, the planned centre would also be a permanent home for Concorde 216 - not far from where it was originally built.
Mr Ferguson said it would also offer a "wealth of information" for a city which has a "long standing association with the aerospace industry".
"The museum has already received planning permission and I hope that by giving it this one-off financial support we can help get it off the ground," he said.
"Although it is situated just across our border with South Gloucestershire I realise that normal people take no notice of administrative lines on maps, and it's high time those of us in local politics took a lesson from this."
Other funding proposals up for public consultation, include an Engagement Hub in the Temple Quarter Enterprise Zone; Bristol's 27 Early Years Children's Centres; a campus skatepark in Bishopsworth and a new station at Ashton Gate as part of the regional Metrowest local rail plans.