Elderly A&E patient at Southmead Hospital 'overlooked for hours'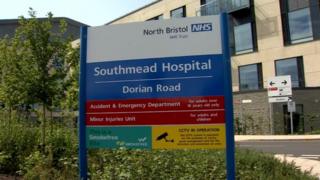 An elderly dementia sufferer with a suspected broken wrist was "overlooked" and made to wait for hours to be seen in hospital, her family has said.
Helen Williams, 88, was taken by paramedics to Southmead Hospital in Bristol on Saturday.
But once there, her son-in-law said she was left in a cold corridor bay where she became "increasingly agitated".
The hospital has apologised and said it was not an experience it would want for any patient.
'Mistake rectified'
Lawrence Wortman said his mother-in-law was admitted at 10:30 GMT and did not return home until 19:00 GMT after broken bones were ruled out and severe arthritis diagnosed.
During this time, she spent three hours in a temporary bay called "the crossroads", near an entrance into A&E, "so there was quite a cold wind blowing through," he added.
He later requested she be returned home which "seemed to spark a bit of action" and a doctor and senior consultant "came out to apologise".
"We were told a new process had been implemented, which clearly wasn't working, and for whatever reason my mother-in-law had been overlooked," he said.
Southmead Hospital's director of nursing, Sue Jones, said under normal circumstances patients would not be kept in "the crossroads" for very long but "in this case that didn't happen".
"As the consultant explained to Mr Wortman, and apologised, they had overlooked Mrs Williams for a period of an hour or two," she said.
"Once the mistake was spotted it was rectified really quickly."
Since then, the processes within the department had been improved "so we can cope with bigger volumes".